Friday Keynote Speech - Dr Richard Erskine
Compassion is central to the client-therapist relationship.  We express compassion through our affective Attunement, our attention to the client's natural rhythm, our focus on our client's Relational-Needs, and our constant responsiveness to the developmental levels of neglect and trauma.
Hope is generated in our clients' lives through our consistent acknowledgement, Normalisation, and Acknowledgement.
Forgiveness is about being at peace with oneself and one's past.
Friday Afternoon  - Dr Jonathan Lloyd
 In this keynote speech, Dr. Jonathan Lloyd will explain why he believes Hope is an essential ingredient in therapy.
Often, clients will arrive in therapy in a state of hopelessness, it is vital that when appropriate the therapist retains hope on behalf of their client.
In this keynote speech, Dr. Jonathan Lloyd will introduce recent and relevant research on how Hope can be dealt with effectively in therapy.  He will also review how the context and environment effect hope and how this impacts on the process of Hope as a verb v Hope as a noun.
Dr. Jonathan Lloyd is a Counsellor and Supervisor in private practice.  His professional doctorate from the University of Manchester involved researching metaphor in therapy and is the author of his a newly acclaimed book titled "Whales in the Desert".
Saturday Keynote Speech  - Professor Mick Cooper
Relational depth and Psychotherapy
Relational depth is a state of profound contact and engagement between two people in which each person is fully real with the other, and able to understand and value the other's experiences at a high level.
Over the past 15 years, researchers in the psychotherapy and counselling field have worked to understand more about this phenomenon, and how it relates to the therapeutic process and outcomes.
In this keynote presentation, Mick Cooper, who has led this research, will present a summary of what has been found. The presentation will look at research on the experience of relational depth, its prevalence amongst therapists and clients, the relationship between relational depth and clinical outcomes, and the factors that facilitate--and inhibit--the development of an in-depth encounter.  The talk will also discuss new measures that have been developed to assess levels of relational depth.
Sunday Keynote Speech - Jocelyne Quennell and Lydia Noor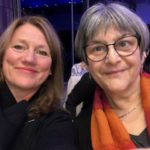 Introducing the Child Therapeutic Wellbeing Practitioner: Bringing Hope, Compassion and Forgiveness to our Children, Young People, Families, Organisations and Communities
Many of our children and young people seem to have lost hope and live from a place of despair, anger and distress. They may have not felt a compassionate presence in their lives.  If this is their lived experience, then forgiveness can be hard for them to find.
The challenges young people face can be profound and may include severe and enduring Adverse Childhood Experiences, serious losses, mental ill-health, poverty, loneliness, violence and discrimination, social exclusion or isolation. Disaffection with new levels and depths of dissociation can be evident in so many communities across the UK.
This shared keynote speech will outline a vision for Child Therapeutic Wellbeing Practice, a rapidly developing grass roots movement professionalising and applying psychotherapeutic values, theory, philosophy and skills with front line workers in health, education and social care, independent, charity and statutory sectors.
This will include a wide range of innovative examples of child therapeutic wellbeing practice in the contexts where children live, learn and play, tracking the process of professional qualification.
For the last four years, Jocelyne Quennell and Lydia Noor have been working in partnership between the North and South of England from Yorkshire to London, promoting quality and standards as well as increased access to Early Help through therapeutic support. Together they represent Child Therapeutic Wellbeing Practice within the context of the United Kingdom Council for Psychotherapy.
This Keynote will articulate the commitment of this movement for Child Therapeutic Wellbeing Practice towards more integrated, holistic, multi-disciplinary, creative, relational, contextual and mindful therapeutic care for children, young people, their families and the organisations which identify and provide for their needs.
.